CropLife Latin America virtual course platform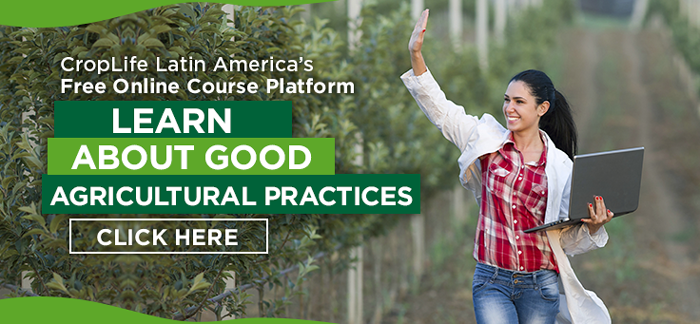 Free online courses platform. Get training on good agricultural practices. Enter here.
More than 11,000 people, among farmers, distributors, authorities and students, have been certified in CropLife Latin America virtual courses for the last five years. Through a virtual friendly navigation platform, five free virtual courses are offered in Spanish, three of them in Portuguese, aimed at improving the understanding of the responsible and ethical use of phytosanitary products to maximize their benefits, reduce risks and promote agriculture sustainable development.
The courses are directed to regulatory authorities, distributors, farmers, technicians, agronomists, personnel of agrochemical industry companies, students and in general to people involved in the agricultural chain.
Interaction and follow-up:
The virtual platform is dynamic, friendly and with an intuitive navigation that facilitates interaction with the student, who can start and access freely whenever he needs it, so that he can finish his training according to his availability of time.
The interaction and follow-up with each of the students is permanent. The four courses include modules, at the end each student must pass an exam with 70% of the questions to enter the next module. Once the course is approved, the student is immediately certified.
The virtual courses platform is hosted on the CropLife Latin America website, and its link is www.croplifela.org/cursosnew
Courses available:
Biological Beds Course - BIODEP
This course is designed so that farmers and all those involved and interested in the agricultural chain learn to design biological beds, a system developed in Sweden which retains and degrades pesticides, avoiding contamination of soil or surface water or groundwater.
BIODEP® are structures implemented that favor the growth of pesticide degrading microorganisms for the treatment of spills at the site of mixing and for the washing of equipment, proving to be effective in accumulating, retaining and degrading microbiological surplus pesticides.
The biological bed or table is a natural solution because its composition is mostly a vegetable substrate containing a large amount of lignin (wheat straw, rice, corn), this material is decomposed by a fungus called "white rot fungus" (Phanerochaete chrysosporium), whose enzymatic system manages to destroy lignin and a large number of chemical compounds, including pesticides.
CampoLimpio Course - Responsible Management of Empty Containers of Crop Protection Products
Through its 5 modules, this course offers a complete guide for farmers, managers and farm owners, professionals, technicians and students of agricultural careers, traders, distributors, authorities and consumers to know how to give a final and sustainable destination to plastic that is left in the field after the products for crop protection or pesticides are used.
This course is part of the CampoLimpioSM Responsible Packaging Management Program, which is implemented in 18 Latin American countries.
The triple-washed empty containers of high-density plastic can become raw material for the manufacture of new plastic products, such as plastic wood for the construction of mini-collection centers, stowage, multi-layer drums for packaging new pesticides, industrial products of automotive construction.
Life Cycle Course
With this course, students will be able to recognize the life cycle of a product for the protection of crops from the investigation of the solution to a phytosanitary problem, the production of pesticides, their storage, transport, distribution, commercialization, application and use, to their proper post-consumer handling.
Course on the FAO Code of Practice for Pesticide Management
There are 4 modules designed to know the responsibility of governments, manufacturers, importers, marketers and farmers in the correct use of agrochemical products, based on a set of standards adopted and promoted internationally by the United Nations Organization for Agriculture and Food, FAO.
POLLINATORS course
Farmers, agricultural engineers, agricultural technicians, beekeepers, authorities and all those interested in protecting the health of honeybees will be able to make the free course Good Agricultural and Beekeeping Practices for Pollinators Health.
In three modules, this course provides information on the mutual benefit of agriculture and beekeeping as complementary activities for a good quantity of crops, addresses the factors that can affect the health of honeybees and provides a broad list of activities for beekeepers and farmers to adopt new habits that protect bees; one of them and perhaps the most important is greater communication and cooperation between the two activities.
Introduction to Biotechnology
The preparation of this course was inspired by the experiences of responsible use of biotechnology in countries such as Argentina, Chile, Brazil and Mexico, with the aim of compiling it and sharing it with other Latin American countries.
The content is subject to changes in the state of the art and science, as well as the different production environments in the diversity of Latin America, including but not limited to biodiversity, climatic conditions, temperature, solar radiation, winds, soil types, composition of available organic matter, water hardness, and depth of groundwater, among others. These variables must be considered at all times when applying the knowledge and techniques shared in this course.