Global network
CropLife Latin America is one of the six regional associations which make up the CropLife International Global Network.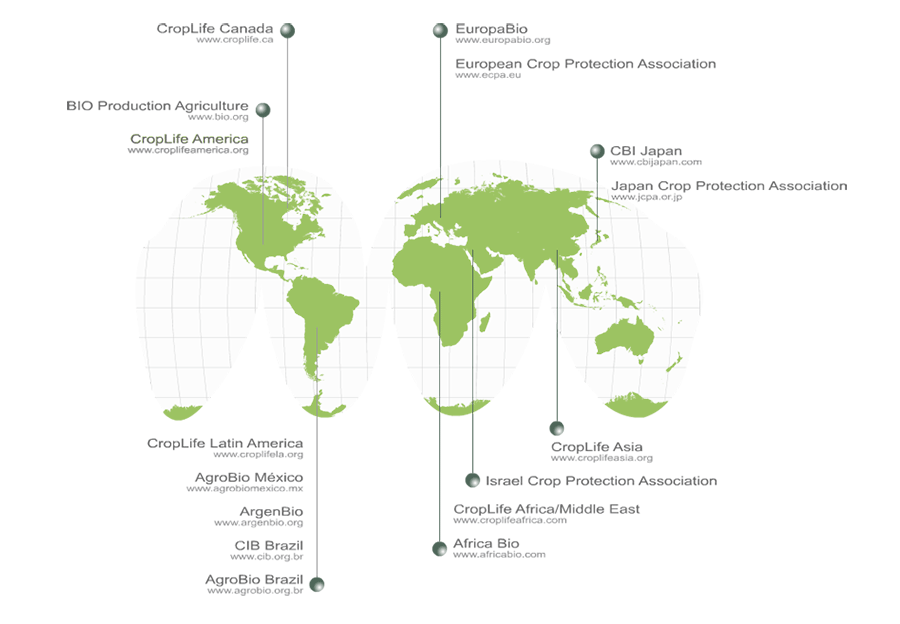 Associations Network
CropLife Latin America works with a trade association network in 18 countries of the region. The contact data for each association can be found in the map.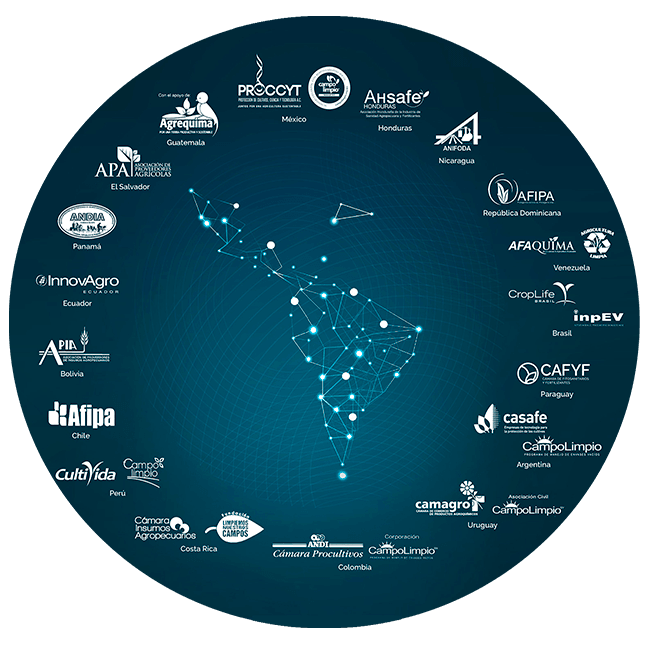 Directory Associations Network

ARGENTINA - CASAFE - Cámara de Sanidad Agropecuaria y Fertilizantes

www.casafe.org
E-mail: flandgraf@casafe.org
Executive Director: Federico Landgraf
Address: Reconquista 661 1A 1003 – Capital Federal. Buenos Aires – Argentina
Phone number: (54 11) 4893 7772 | (54 11) 4893 7773
ARGENTINA - CAMPOLIMPIO

www.campolimpio.org.ar
E-mail: institucional@campolimpio.org.ar
Executive Director: Ignacio Stegmann
Address: Reconquista 661 1A 1003ABM – CABA– República Argentina
Phone number: (54 11) 5365 6919

BOLIVIA - APIA – Asociación de Proveedores de Insumos Agropecuarios
www.apia-bolivia.org
E-mail: lorgio@apia-bolivia.org
Executive Director: Lorgio Arano
Address: 4to. anillo Equipetrol, calle Jaime Roman, edificio Le Bureau. Santa Cruz de La Sierra, Bolivia
Phone number: (591 ) 3342 0735

BRASIL - CropLife Brasil
www.croplifebrasil.org
E-mail: christian.lohbauer@croplifebrasil.org
Executive Director: Christian Lohbauer
Address: Avenida Roque Petroni Júnior, 850 – 19º andar – Torre Jaceru Jardim das Acácias. São Paulo – SP 04707-000 Brasil
Phone number:(55 11) 3087 5033
BRASIL - INPEV – Instituto Nacional para el Procesamiento de Envases Vacíos
www.inpev.org.br
E-mail: joao.rando@inpev.org.br
Executive Director: Joao Rando
Address: Calle Capitao Antonio Rosa 376-7° Andar Jardim Paulistano. São Paulo – SP 01443-010 Brasil
Phone number: (55 11) 3069 4400

CHILE - AFIPA - Asociación Nacional de Fabricantes e Importadores de Productos Fitosanitarios Agrícolas A.G.
www.afipa.cl
E-mail: info@afipa.cl
Executive Director: Patricia Villareal
Address: Félix de Amesti 124 Of. 31 Las Condes. Santiago de Chile, Chile
Phone number: (562) 2206 6792 | (562) 2206 7725

COLOMBIA - ANDI – Asociación Nacional de Empresarios de Colombia – Cámara Procultivos
www.andi.com.co
E-mail:mlatorre@andi.com.co
Executive Director: María Helena La Torre
Address: Calle 73 No. 8 – 13 Torre A Piso 8. Bogotá, Colombia
Phone number: (571) 326 8500 Ext. 2239
COLOMBIA - Corporación CampoLimpio
www.campolimpio.org
E-mail: lfbotero@campolimpio.org
Executive Director: Luis Fernando Botero
Address: Av. Carrera 9ª No. 113-52 Oficina 607. Bogotá – Colombia
Phone number: (571) 629 8955

COSTA RICA - INSUMOS - Cámara de Insumos Agropecuarios
www.insumos.cr
E-mail: obandocr@insumos.cr
Executive Director: Roberto Obando
Address: De Mc Donalds Plaza del Sol en Curridabat 900 mts south, 25 mts east. San José, Costa Rica
Phone number: (506) 2234 9812 | (506) 2234 6910
COSTA RICA - INSUMOS - Fundación Limpiemos Nuestros Campos
www.flnc-cr.org
E-mail: lmatarrita@flnc-cr.org
Executive Director: Luis Matarrita
Address: De Mc Donalds Plaza del Sol en Curridabat 900 mts south, 25 mts east. San José, Costa Rica
Phone number: (506) 2234 9812 | (506) 2234 6910

ECUADOR - InnovAgro Ecuador
www.innovagro.org.ec
E-mail: fgarcia@innovagro.org.ec
Executive Director: Fernando García
Address: Av. Juan Tanca Marengo Ed. Profesional Center P.2 Of. 215. Guayaquil, Ecuador
Phone number: (59 34) 210 7171 | (59 34) 210 7352

EL SALVADOR - APA - Asociación de Proveedores Agrícolas
www.apaelsalvador.com
E-mail: info@apa.com.sv
Executive Director: Rodolfo Perdomo
Address: Colonia San Benito Calle la mascota Pasaje Nº 4 Casa Nº 8 San Salvador, El Salvador
Phone number: (503) 2260 6835 | (503) 2260 4903

GUATEMALA - AGREQUIMA - Asociación del Gremio Químico Agrícola
www.agrequima.com.gt
E-mail: j.hernandez@agrequima.com.gt
Executive Director: Jorge Hernández
Address: Boulevard los próceres 24 – 69 Zona 10, Empresarial Zona Pradera, Torre IV, Nivel 10, Oficina 1004, Ciudad de Guatemala, Guatemala
Phone number: (+502) 2295-9780 | (+502) 2295-9781

HONDURAS - AHsafe Honduras - Asociación Hondureña de la Industria de Sanidad Agropecuaria y Fertilizantes
www.ahsafe.hn
E-mail: director@ahsafe.hn
Executive Director: Mario Valladares
Address: Torre Corporativa Novacentro 8vo Piso. Tegucigalpa, Honduras
Phone number: (504) 3186 8164

MÉXICO - PROCCYT - Protección de Cultivos Ciencia y tecnología
www.proccyt.org.mx
E-mail: contacto@proccyt.org.mx
Executive Director: Cristian García de Paz
Address: Tintoreto 32 Ed. A Desp. 2 Col. Nochebuena, Mixcoac México D.F., México
Phone number: (5255) 5598 9095 | (5255) 5598 7265 | +52 55.39.59.11.85
MÉXICO - AMOCALI - Asociación Mexicana de Organizaciones por un Campo Limpio
www.campolimpio.org.mx
E-mail: vcelaya@campolimpio.org.mx
Executive Director: Víctor Celaya
Address: Insurgentes Sur # 1768, 3 piso, Col. Florida, Delegación Álvaro Obregon, Mexico DF, C.P. 01030
Phone number: (0155) 5661 1035 | (0155) 5662 9999

NICARAGUA - ANIFODA - Asociación Nicaragüense de Formuladores y Distribuidores de Agroquímicos
www.anifoda.org
E-mail: anifoda@ibw.com.ni
Executive Director: Flor de Maria Rivas
Address: Rotonda Cristo Rey 300mts al sur. Complejo PROFYSA. Managua, Nicaragua
Phone number: (505) 2252 5524

PANAMÁ - ANDIA - Asociación Nacional de Distribuidores de Insumos Agropecuarios y Maquinaria
www.andiapanama.org
E-mail: andia@andiapanama.org
Executive Director: Lucas Sanchez
Address: Vía Ricardo J. Alfonso, Tumba Muerto. Edificio Centruary Tower. Piso 10. Oficina 1018. Panamá
Phone number: (507) 260 9319

PARAGUAY - CAFYF – Cámara de Fitosanitarios y Fertilizantes
www.cafyf.org
E-mail: liz.rojas@cafyf.org
Executive Director: Liz Rojas
Address: Mcal José Estigarribia 2130 Planta Baja "A", Asunción, Paraguay
Phone number: (595) 2122 8270

PERÚ - CampoLimpio
www.campolimpio.org.pe
E-mail: gerencia@campolimpio.org.pe
Executive Director: Carlos Caballero Solis
Address: Giuseppe Garibaldi (ex Gregorio Escobedo) Nº 396, Jesús María. Lima, Perú
Phone number: (511) 219 1767
PERÚ - Cultivida
www.cultivida.org.pe
Email: crodriguez@cultivida.org.pe
Executive Director: Carlos Rodríguez
Address: Av. República de Panamá 3531, Of 1203 Lima 27. Lima, Perú
Phone number: (511) 421 4811

REPÚBLICA DOMINICANA - AFIPA – Asociación de Fabricantes, Representantes e Importadores de Productos
www.afipard.org
Email: afipainc@claro.net.do
Executive Director: To be confirmed
Address: Av. Prolongación Independencia, KM 7 1/2, Esq. Calle Primera, Condominio el Coral, Apt. 101. Santo Domingo, República Dominicana
Phone number: (1809) 565 6055

URUGUAY - CAMAGRO – Cámara de Comercio de Productos Agroquímicos
www.camagro.org.uy
E-mail: info@camagro.org
Dir. Ejecutivo: Gabriel Bascou
Address: Avenida Gral. Rondeau 1908 Piso 1 Of. 3. Montevideo, Uruguay
Phone number: (598) 2924 9326
URUGUAY - Asociación Civil CampoLimpio
www.campolimpio.org.uy
E-mail: aldoi@campolimpio.org.uy
Executive Director: Aldo Invernizzi
Address: Avenida Gral. Rondeau 1908 Piso 1 Of. 3. Montevideo, Uruguay
Phone number: (598) 2925 4539

VENEZUELA - AFAQUIMA - Asociación de Fabricantes de Productos Químicos Agropecuarios
www.afaquima.com
E-mail: mary.triny.perez@gmail.com
Executive Director: Mary Triny Pérez
Address: Centro Empresarial Uniaragua P.3 Of. 302 Urbanización San Miguel con Av. Mariño Sur Maracay Edo-Aragua-Venezuela
Phone number: (58-243) 247 2455